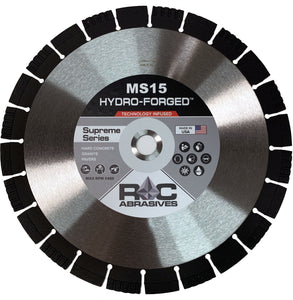 ROC Abrasives: MS15 - Hard Concrete, Granite & Paver Diamond Blade
Premium hardscape blade cuts brick, block, concrete, pavers, granite, and fieldstone, like butter!  Made in the USA!
Product Specifications: 
Blade Size: 12," 14", 16', 18", 20" 
Arbor Size: 1"-20mm,  ph*
Segment Height: 

12mm (.472") 

Segment Type: Turbo Segment
Application: Hard Concrete, Reinforced Concrete, Hard Paver Brick, Concrete Pipe, Terrazzo
Manufactured: Made in the USA
ROC Abrasives Hard Concrete - Diamond Blades 
In the construction sector, diamond cutting is standard practice. Because diamond bits cover the blade's surface, this tool can slice through any kind of construction material. Cuts in concrete are made using diamond blades because a diamond's hardness is unrivaled. When it comes to cutting concrete, only diamond blades can compare to the strength, longevity, and efficiency of concrete. Diamond blades come in a variety of variants specifically designed to cut various concrete materials. It's important to use a diamond-cutting tool designed for the specific kind of concrete you're working with. Finding the correct diamond blades requires research but it is crucial for efficient, risk-free, and precise concrete cutting. 
A diamond blade is an essential tool for any do-it-yourself homeowner with concrete and granite-cutting ambitions. Abrasive blades can make short work of cutting through concrete and granite, but they wear out quickly and may need to be replaced several times over the course of a single job. Although granite is a beautiful and long-lasting stone, it can be difficult to work with due to its hardness. Granite tile is often more cost-effective and convenient to deal with than granite slab, making it a popular choice for kitchen counters. Granite tile outlasts other materials like porcelain, but it's harder to work with due to its density. Granite tiles are too heavy and dense to be scored with a cutting wheel and snapped with a tile cutter. Granite tiles should be cut with a diamond blade.